Bespoke Courses
If your company or organisation would like a course written specifically for a particular job or one that meets the particular knowledge and skills for your field of work then the Scottish Lime Centre Trust can help.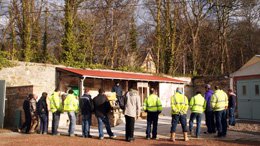 In the past we have delivered bespoke courses to contractors, architectural, surveying and engineering practices specifically for their exacting requirements. More recently we have been assisting local authority planners through a programme of bespoke Continuing Professional Development (CPD) to assess when sash and case windows are still in scope for repair rather than being needlessly replaced, a more sustainable solution.
Please contact us to discuss your requirements.

---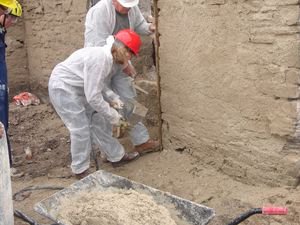 Onsite Training
We frequently assist building contractors on their building sites to successfully complete conservation, repair and restoration projects.
We work with contractors to set up the site to ensure there is an appropriate site mixing area for producing consistent, repeatable mortar mixes to ensure conformity to the specification.
On some projects there can be up to 5 or 6 different mortar mixes for difference elements of a building, from foundation work, different coats of render to high level exposed elements such as parapets and chimneys so getting this right from the start is crucial. We ensure with the contractor that the scaffolding is 'fit for purpose' to undertake the works and provide a framework for hanging appropriate protection. Then we get to work with the contractor in preparing walls for pointing or rendering in a methodical manner, never working over finished work which usually means it is a 'top-down' process. Our involvement can be as little or as much as the contractor is comfortable with, plus we can visit site at intervals to give the contractor comfort that the job is going to plan and that the quality of the work is second to none.
Please contact us to discuss your requirements.