We have an excellent opportunity for a time served stonemason to join our busy team to deliver our range of 'hands on' courses as well as work alongside the Building Advisory team.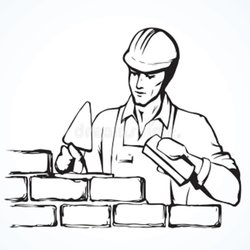 Outline Job Description

This is a full time permanent position. Working week is 37.5 hours Monday to Friday.
You may be required to work at weekends or at client's site occasionally.

The post offers 28 days Annual Leave (including bank/public holidays) and an automatic enrollment to the SLCT pension scheme through the National Employment Savings Trust (NEST).

Salary will be commensurate with knowledge and experience.

Full support, guidance and training will be given to the successful candidate to ensure that the practical training delivery meets the exacting standards of the SLCT.

Duties include:
Delivery of Scottish Lime Centre Trust's (SLCT) busy timetabled programme of practical training 'hands on' courses related to the construction and repair of traditional masonry buildings to a wide range of learners from contractors, heritage professionals, homeowners and school children in an engaging manner (see www.scotlime.org for details of scope of courses.)
Delivery of SLCT's busy commissioned practical 'hands on' training courses related to the construction and repair of traditional masonry buildings for individual, commercial and heritage project clients both on and off site in an engaging manner.
Ensure that SLCT's training facilities, plant, equipment and tools are kept in clean, safe and good working order.
Undertake specific site visits, inspections and quality assurance checks with SLCT Building Advisory service staff and produce reports jointly.
Gain your Assessor units in order to assess candidates for our new SQA Professional Development Award (PDA) (fully funded and supported by SLCT)
Keep your skills refreshed and add to them by undertaking continuing professional development opportunities as identified by you and the SLCT Director
Develop new courses with the input of the SLCT director and Building Advisory service staff.
Undertake risk assessments for new courses, plant, machinery and equipment as required.
Manage one staff member (Training assistant)
Other duties as required by the SLCT Director


Employee Specification
Essential skills:
Time served Stonemason with Advanced Craft qualification
Full UK driving license
Ability to pass on your skills and knowledge to a wide audience range.
Practically orientated and organised individual able to manage their own workload and work as part of a team.
Good timekeeper
Good customer service skills.
Desirable Skills:
Qualification in masonry conservation, e.g. NPA, SQA National Units or equivalent
CSCS Gold card holder for advanced craft/ supervisor
First aider at work qualification

To apply:
Please send in your CV with a covering letter to Roz Artis, MRICS, SLCT Director by email to admin@scotlime.org by 24th March 2023.
Interviews will be held the week commencing 27th March 2023 at Charlestown Workshops, 2 Rocks Road, Charlestown, Fife, KY11 3EN. This will also involve a skills test.

About the Employer:

The Scottish Lime Centre Trust (SLCT) is an equal opportunities employer.

Established in 1994 as a 'not for profit' charitable organization with the aims of:
Promoting for the public benefit the appropriate repair of Scotland's traditional and historic buildings;
Advancing education through the provision of advice, training and practical experience in the repair of traditional and historic buildings;
Promoting and furthering the preservation and development of traditional building crafts and skills.
The SLCT has grown to become a centre of excellence for traditional building skills and a world class knowledge base for building conservation advice and masonry materials analysis at our Building Materials Analysis Laboratory.

We offer a wide range of training courses, workshops and Masterclasses from Charlestown Workshops and our Merryhill industry training centre (1/2m from Charlestown Workshops) from one day workshops to longer courses that can lead to the attainment of recognized SQA/ HES qualifications in the repair and conservation of traditional buildings and structures. Over 1000 learners undertake the SLCT's timetabled courses every year with many more learners reached through specially commissioned courses for heritage organisations, Conservation Area Regeneration Schemes. Our learners come from all four home countries, Republic of Ireland, Continental Europe and overseas.